SFRC Women's Headlands Half Marathon
October 1, 2023 – Sunday @ 8:00AM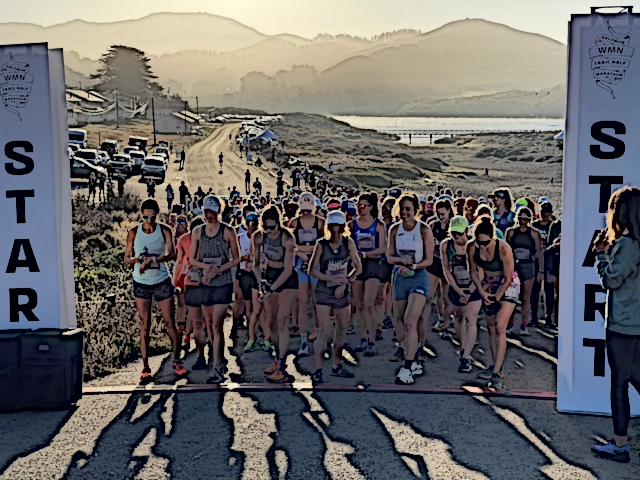 Race Information
When: October 1, 2023 – Sunday @ 8:00 AM
Where: Marin Headlands – Rodeo Beach (directions to the start)
Distance: 12.6 Miles
Elevation: 2,494 ft
Schedule of Events
Check-In & Bib Pickup:
Early Check-In:
San Francisco Running Company
247 Shoreline Highway, Mill Valley, CA 94941
Race Morning:
Oct 1st @ 5:30 AM – 7:00 AM
Rodeo Beach
Time Limit: 5.5 Hours (25 minutes/mile)
Parking: Free parking is available in the surrounding areas to the Start/Finish at Rodeo Beach. Runners may utilize the pullouts along Mitchell Road, along the beach, the annex lot below the Marine Mammal Center, and the Smith Road Parking Lot (Gerbode Valley Trailhead) along Bunker Road. The walk from the Marine Mammal Center lot to the Start/Finish is about 1/3 mile. Parking fills up early, and the later you arrive the further you will have to walk, so please plan your arrival time accordingly.
Directions:
Golden Gate National Recreation Area
Rodeo Beach
11050 Mitchell Road, Sausalito, CA 94965
Click for Directions
Capacity: 400 runners.
Timing: UltraLive.net (live timing during the race)
Post Race: Sunday brunch style food will be available after the race along with refreshments.
Dog Policy: As much as we love dogs, they are unfortunately not allowed on the Headlands Half course because it is a National Recreation Area. You may have dogs, on leash, at Rodeo Beach.